ROOF REPLACEMENT SERVICES
Local Roof Replacement Company Serving Needham & the Surrounding Area
Get The Home of Your Dreams With Expert New Roof Installation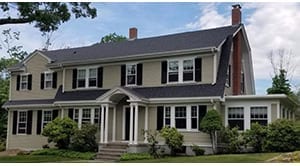 A new roof is an important investment in your home. Whether you need a new roof due to damage from a storm or because your current roof is showing signs of age, our top-rated products will provide a durable, beautiful replacement.
Since 1969, GF Sprague has provided professional Boston area roof replacement services using the industry's most trusted brands. 
We've built a reputation for excellence one job at a time, and we strive for 100% customer satisfaction. For your next roof replacement, let the professionals at GF Sprague put our experience to work for you and enjoy expert services delivered by courteous roofing specialists.
The GF Sprague Difference
For over 50 years now, GF Sprague has provided residents and institutions with the highest quality craftsmanship and service offered in the roofing industry. We pride ourselves on offering highly-trained and certified craftsmen, industry-standard specifications, competitive pricing, and real-deal warranties. Driven by our commitment to deliver the right job at the right price for our community, GF Sprague has consistently re-earned the highest Trade-specific accreditations. Check out our customer testimonials to learn why our customers love working with us.
Greater Boston Roof Replacement Services:
If your roof is showing signs of age or has significant damage, regular repairs and maintenance may not be enough to preserve the integrity of your roof. Fortunately, GF Sprague is your local expert for complete roof replacement. We service a wide variety of roofing materials and give you a durable, high-quality roof that will perfectly complement your home and last for years to come.
Not only are our Boston replacement roofing options stylish, they are also some of the most durable on the market and boast features that allow them to withstand high winds and prevent ice damming while also enhancing your home's energy efficiency.
Frequently Asked Questions about Roof Replacement
What to Expect from a Roof Replacement with G.F. Sprague:
How to tell if you need a new roof
Depending on what type of roof you have, these are some signs that could indicate the need for a roof replacement:
Roof is very old or past warranty
Missing or broken shingles
Bare, curling, or buckling shingles
Numerous broken tiles
Damaged flashing
Cracks allow water or daylight through
Will insurance cover my new roof?
If your roof was damaged during a storm, by a falling tree, or some other natural disaster, then it is possible your  insurance will cover some, if not all, of your new roof. The best thing you can do is reach out to your insurance provider and speak with a representative. 
Why choose GF Sprague?
Let us help you give your home a beautiful new roof that will keep you safe and dry. Our expert roof inspection can tell you if you need a full replacement or if repair and maintenance is a better option for your home. Call us today at 1-781-417-3894 or click for a free estimate on total roof replacement or any of our roofing services 
See Roofing before & after galleries:
Roofing videos: