EXPERT GUTTER INSTALLATION
Local Gutter Installation Company Serving Needham  & the  Surrounding Area
At GF Sprague, we know what separates the 'good' gutters and gutter guards from the 'great' gutter protection systems that provide fail-safe performance and exceptional value. That's why we only install the best products available. All of our gutter installation services are performed with high-quality craftsmanship using superior materials.
Unfortunately, many homeowners tend not to think much about their gutters until there's a problem. Clogs and leaks caused by damaged or rundown gutters can put your home at risk for moisture damage, wood rot, and flooding. 
As one of Greater Boston's most-trusted gutter installation companies, GF Sprague diagnoses your individual gutter problem and installs new gutters in a timely and efficient manner. Call us today at 1-781-417-3894 or click to request a free estimate. We provide all our gutter replacement services in Needham, Newton, Wellesley, and throughout the nearby areas in Massachusetts.
The GF Sprague Difference
For over 50 years now, GF Sprague has provided residents and institutions with the highest quality craftsmanship and service offered in the gutter industry. We pride ourselves on offering highly-trained and certified craftsmen, industry-standard specifications, competitive pricing, and real-deal warranties. Driven by our commitment to deliver the right job at the right price for our community, GF Sprague has consistently re-earned the highest Trade-specific accreditations. Check out our customer testimonials to learn why our customers love working with us.
Gutter Replacement Options
Gutters are available in various sizes and styles, each with their own benefits. Contact GF Sprague to learn more about the types of gutters we install and which style is best for your home.
K-style gutters
K-style gutters are named for their profile, which when viewed from the side, resembles the letter K. These gutters are also known as "ogee" gutters, which means "double curve." K-style gutters are available in different sizes, but the two most common sizes are five-inch and six-inch. K-gutters are typically made with aluminum, but can also come in vinyl, copper and steel. While K-gutters can hold more water than rounded gutters and are less likely to bend under heavy force, they can also be hard to clean.
Half-round gutters
Half-round gutters can be found on many turn of the century homes, although homeowners today still use them to add a touch of style to the exterior of their home. Half-round gutters come in all metals, including copper, are available in plastic, and can also be seamless. There are several advantages to half-round gutters, including their smoothness, which decreases corrosion and clogs while making the gutters easier to clean. A major disadvantage of half-round gutters is that they are unable to hold a lot of water, which can cause gutters to overflow in areas that get a lot of rainfall.
Seamless aluminum gutters
Seamless gutters are effective and affordable, making them a top choice among homeowners
Seamless aluminum gutters are custom-fit to the exact length needed and have no joints or seams to let in water or debris
Aluminum gutters also offer many advantages – they won't crack or split like vinyl or rust like steel. Seamless aluminum gutters are a long-lasting, inexpensive solution that can be installed hassle-free.
Copper gutters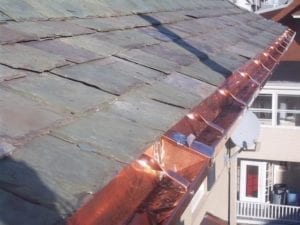 Copper gutters are the perfect option if you are looking to add character and craftsmanship to your home. Copper gutters naturally patina with age and will vary in color depending on climate.
Copper gutters are also durable and long-lasting and will never rust or need to be painted. This type of gutter system should be installed by a professional because joints and seams must be soldered. A major disadvantage of copper gutters is the cost and installation – copper gutters are much harder to install and are more expensive than aluminum or steel options.
Don't put up with old, ugly, clog-prone gutters
Investing in proper rain gutter installation can improve your home's value and curb appeal and prevent costly repairs. Call GF Sprague today or send us an email to schedule a free gutter inspection and estimate. Our services are available in Newton, Needham, Wellesley, Chestnut Hill, Weston, Boston, Brookline, Cambridge and surrounding towns and cities.
Check out our past gutter installations:
Aluminum Gutters in Wellesley, MA
Copper Gutters in Sherborn, MA
Copper Gutters in Somerville, MA
Lead-Coated Copper Gutters vs. Freedom Gray
What you can expect from our gutter services:
Inspection and measurements prior to installation.
Custom gutter solutions, measured to exact specifications.
Strong, seamless, watertight gutters.
Complete clean-up and debris removal.
Gutter systems installed by licensed professionals.
Don't wait to protect your home: Get a free estimate today!
GET A FREE QUOTE! Contact us today for a no-obligation estimate for gutter installation in Greater Boston!
See Gutters & Downspouts before & after galleries:
Gutters & Downspouts videos: