Proudly Serving Wellesley, MA since 1969
Residents of Wellesley, MA have homes worthy of the beautiful, historic town they live in. And with about 42 inches of snow and 45 inches of rain a year – both well over national precipitation averages – properties in Wellesley also need to be well protected and cared for. With over 50 years of experience, GF Sprague is the local expert in roofing repair and replacement, gutter installation, chimney repair, and replacement window installation. Read our Wellesley Roofing Contractor Guide to learn more about what to consider when selecting a roofing contractor.
High-Quality Roof Repair And Gutter Installation in Wellesley, MA
How can you tell if your roof or gutters are in trouble? Some signs of roof damage are obvious, such as patches of missing or broken shingles and roof leaks, but others might not be discovered without a professional roof inspection. Similarly, you can tell if your gutters are coming off of your roof, but without going up there you might not know if your gutters are clogged or have experienced other internal damage.
GF Sprague is your local Wellesley roofing company that specializes in all kinds of roof repairs and gutter installations using the best quality products from manufacturers we trust. We can also perform complete roof replacements when your roof is severely damaged or has outlived its warranty.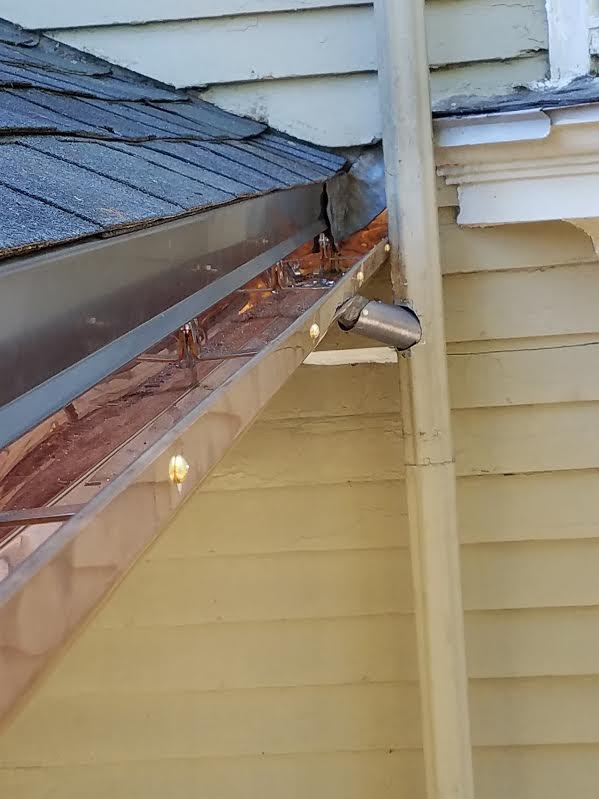 Our Wellesley Roofing Company Services:
Our Gutter Installation Service in Wellesley:
All of our technicians are fully trained and certified to provide the Wellesley roofing and gutter services you need, and we have won awards for our craftsmanship and dedication to customer service. There isn't much we haven't seen since we opened our doors in 1969, so chances are we've solved your problem many times before. To find out what we can do for you, schedule a free estimate today!
Stay On Top Of Chimney Repairs To Keep Your Home Safe
Chimney flashing is one of the most important features we'll investigate in a chimney inspection.
When a chimney experiences any kind of damage or decay, it can cause chaos for the rest of the home. Not only can falling, crumbling bricks do serious harm to your roof or property, but your chimney will also be unable to perform its basic duties. GF Sprague's chimney repair and building services will minimize the damage done to your property while restoring this feature to its former state.
Our chimney services include:
Replacement Window Solutions To Benefit Any Wellesley, MA Home
Looking for a way to update your home's appearance while saving money on utilities? GF Sprague's replacement window options can accomplish all of this and more. We specialize in all common types of window materials and styles, including vinyl, wood, and fiberglass options available as double-hung windows, picture windows, bay and bow windows, sliding windows, and many more options.
Along with adding beauty and value to your home, these windows come with energy efficiency options like low-e glass and insulated frames. And, when installed correctly by one of our professionals, they ensure that air will not be lost by poorly-fitted frames.
Our Replacement Window Services:
High-Quality Siding Installation That Will Add Curb Appeal & Protection To Your Home
Replacement siding can be the perfect finishing touch to make your home's exterior stand out from the crowd. GF Sprague offers several different siding options that are all equally guaranteed to increase curb appeal while adding protection from the outside elements. Best of all, the right kind of siding can make a significant difference in your home's insulation and ventilation, helping you save money on energy bills!
Our Siding Solutions:
Check Out Our Wellesley Roofing Customer Testimonials!
Check out another testimonial here!
Request a Free Quote from a Wellesley Roofing Company
GF Sprague is committed to delivering high-quality craftsmanship to our customers in Wellesley, MA and the surrounding area. We always offer industry-standard specifications, trained and certified craftsmen, competitively priced options and real deal warranties. Delivering the right job at the right price, GF Sprague brings the experience and expertise required by professionals to your home while maintaining reasonable rates. If you're ready to take the next step with your home, contact us for a free quote.