Roof Repair & Replacement, Window Installation, and Gutter Company in Needham, MA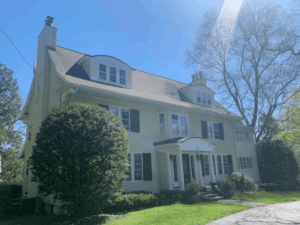 Because of its location in the Northeast, Needham, MA gets almost double the annual snowfall as the average US city, and rainfall averages are similarly high. Living in Massachusetts will put a strain on your home – and particularly your roof. Fortunately, GF Sprague has been solving Needham roofing issues for local homes and businesses for over 50 years. Using the best materials from industry-leading manufacturers, we can perform flawless roof repairs and replacements on your home. We also specialize in emergency roofing services, roof snow removal, and ice damming repair, especially useful in and around Boston.
If the damage to your roof is relatively minor, one of our roof repair solutions should do the trick. However, because all roofs eventually fail, a roof replacement might actually be the better option. We might recommend a new roof if the following situations apply:
Roof is very old or past warranty
Missing or broken shingles
Bare, curling, or buckling shingles
Numerous broken tiles
Damaged flashing
Cracks allow water or daylight through
No matter what's wrong with your roof, we will never force you do to something you don't want to do. We will only make honest suggestions based on our many years of experience. Our mission is to leave you with a safer, more valuable home because we care about our customers' wellbeing and future.
Gutter Installation To Support Your Needham Home's Roof
This homeowner opted for copper gutters to match their copper roof.
In order to ensure your roof can do the best job possible, it's important to take a look at the gutters that support it. If your gutters are clogged, damaged, or coming away from your roof, they are unable to properly remove water. And if your downspout is broken or improperly angled, it can send water directly to your foundation and create leaks and soil erosion.
GF Sprague specializes in gutter and downspout installation to make sure these issues don't occur on your property. We are practiced in using aluminum gutters and copper gutters, so no matter which gutter system you desire for your home, our certified technicians have the skills and tools required for the job. Our gutters are installed quickly and work with all of our roofing systems. When we perform a roof inspection, we can even look at your gutters as well!
Chimney Repair, Replacement Windows and Other Services in Needham, MA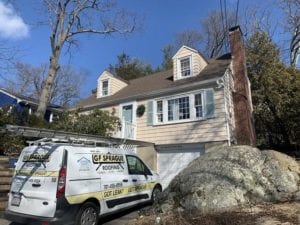 Along with our roofing and gutter services, we also can help with other home exterior issues. If your chimney is damaged, calling in a professional is key to avoid complications and receive a permanent solution. GF Sprague's chimney repair services include:
Routine and emergency inspections
Tuckpointing and brickwork
Installing and/or repairing caps and crowns
Repairing and/or replacing flashing
Building new chimneys
Some of our other services include installing replacement windows and siding, adding value and beauty to your home. If you're interested in improving your home, let the experts at GF Sprague be the ones to do the hard work. Whether your roof, gutters, chimney, or windows are in need of a little TLC, we have the certifications and materials necessary for a successful project. Contact us today to schedule your free estimate in Needham, MA or nearby!
High-Quality Siding Installation That Will Add Curb Appeal & Protection To Your Home
Replacement siding can be the perfect finishing touch to make your home's exterior stand out from the crowd. GF Sprague offers several different siding options that are all equally guaranteed to increase curb appeal while adding protection from the outside elements. Best of all, the right kind of siding can make a significant difference in your home's insulation and ventilation, helping you save money on energy bills!
If your home has outdated, damaged or ugly siding GF Sprague is the contractor you need! Contact us today for a FREE, no-obligation cost estimate!