What separates the American worker from the skilled and respected European craftsmen?
Training
Training
Training
It is no surprise that most moms don't want their kids to grow up to be Cowboys or Roofers. Why? Because both jobs are physically demanding, high risk, and have little prospect for advancement. Not only that, but they receive little or no training, benefits, or respect. It's no wonder a majority of consumers would never hire their contractor again. Sadly, there are only a few companies that have created a formal hands-training program. The only training in place is on a job site where the foreman does not catch amateur defects.
These photos are of our training center, "The GF Sprague School of Design & Craftsmanship." Our new designers and apprentices are trained and practice on this roof mockup and not your home. We believe that the training of our craftsmen and designers translates into simply better projects with zero defects. In turn, high skill leads to happy customers.
For decades GF Sprague has done what other roofing companies don't; we invest our in employees through training. We transform an individual from "green"(unskilled) to "gold"(master skilled) and unlock their true potential. It's gratifying to witness someone who knew virtually nothing about our trades become a skilled apprentice, master craftsmen, and project manager through our training.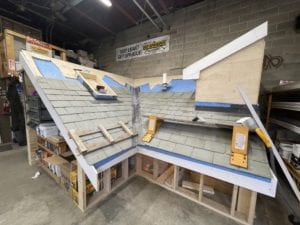 This Roof mockup is where our talented Craftsmen(Gold) pass their knowledge and skills to the next (Green) generation of Craftsmen. The roof mockup and classroom is located in our heated facility at 45 Kearney Rd, Needham. We teach our craftsmen and designers proper design, material selection, and installation skills to build each job right the 1st time. Under the same roof is our sheet metal shop affectionately known as the "Fab Lab." This is where we fabricate virtually all roof panels, flashings, gutters, and downspouts designed to protect against New England's brutal storms. Here is where we teach the fine skill and art of "Coppersmithing ." Our apprentices practice how to custom fit and solder the copperwork to look great, protect the roof, and last for a long time. We designed our rooftop mock-up to replicate most of the elements found on homes, condos, and institutions.
Included in the Roof mockup:
The basic Roof Design- This high pitch surface can be found on most New england structures. It is designed to move water in its many forms off the building quickly.
Here are the components we've featured:
The Valley- Most building will have valleys where two roof surfaces intersect 
The Roof to fascia board transition- the "Red Zone"  where most interior damage originates
The Roof to Rake board transition- the outside vertical edges
The Roof to Dormer transition- "hot spot" for water entry that requires specific flashing
The Roof to Skylight transition- "hot spot" that requires more specific "flashing."
The Roof to plumbing(soil)pipe transition- "hot spot" that requires specific flashings
The Ridge and Soffits ventilation- Designed to circulate fresh cool air under the roof 
The Gutter and downspouts- essential to conducting the water down, safely away from the building.
Why do we constantly invest in training? It's simple, training changes everything!
Their Hands- They'll have skills that will last a lifetime, ensuring their future in trades that'll always be in demand.
Their Heads- How we think about how things work and go together.
Their Hearts- How they feel about themselves and the pride of knowing that what they built will last for the next half-century or more.
Projects that the Designer and Craftsman can drive by and show their kids and their grandkids with pride! Training creates happy, highly skilled, long-term employees who take care of our customers, who often become lifetime customers.
For us, it fulfills our mission-" Doing well by doing good."