Premium Wood Gutters in Newton, Needham, Wellesley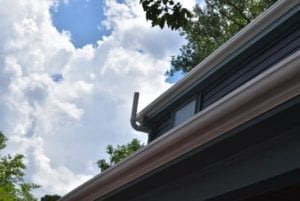 Give your home a traditional look with a timeless material
Are you looking to replace old wood gutters on your traditional home? Or are you building a new home but are interested in incorporating a historical feel? Wood gutters are a unique option for many homeowners, and GF Sprague is here to help you get the right solutions for your home.
We install quality wood gutters that offer a beautiful finish and excellent weather protection for any home. Our experts can help you choose the right options for your home and provide a quality installation.
If you need gutters and downspouts and think that wood gutters might be the right option for you, call us today at 1-781-455-0556 or contact us online to get started! We offer free estimates on all our work in Needham, Newton, Wellesley and the surrounding areas.
Where did wood gutters originate?
Wood gutters were once the most popular gutter material, over a hundred years ago. These gutters can be found on Victorian and Antique Colonial style homes, for example, and they played an integral part in the classic features these homes had to offer.
As the cost to produce other materials decreased, and as production rates increased, wood gutters gradually fell out of favor. However, they are still crucial for the upkeep of these historical homes, and many homeowners seeking this aesthetic will build homes in these styles today.
Benefits of wood gutters
It's no secret that wood and water don't always mix, but some kinds of wood gutters are better able to withstand moisture and decay than others. Cedar, for example, is a hardier material that can better bear the brunt of the elements. Wood gutters can also be treated to provide the durability you need to protect your investment.
Your GF Sprague gutter expert will help you determine which gutters are best for your home, based on a variety of factors – including the material. You don't have to worry when you choose GF Sprague!
Wood Gutter Benefits
Appealing: Wood gutters give charm and traditional character to a home. Often used to create the crown molding of a building's cornice, wood gutters offer a traditional, unique look that has been lost with the advent of mass-produced gutters.
Effective: Wood gutters, when installed by a professional and properly maintained, are capable of proper water management just like other kinds of gutters.