Flat Roofing Repair and Replacement in Greater Boston
Experts for residential flat roofing in MA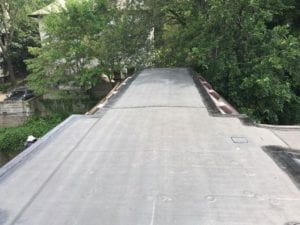 Flat roofing systems pose special challenges and require specific expertise for installation, repair, and maintenance. The smallest flaw can lead to the biggest headache! Plus, Mother Nature will be just as unforgiving of poor design and application of these systems so you'll want to ensure the best installation possible.
GF Sprague provides flat roof repair and maintenance and flat roof installation for residential customers. We have an experienced team of roofers who can help you select the right type of roof for your home, or evaluate your existing flat roof to suggest the proper repairs.
Contact us today to schedule an appointment for a free estimate. We serve customers in Wellesley, Needham, Newton, and surrounding areas in Massachusetts.
Flat roofing solutions for residential applications
Built-up roofing (BUR) has a long history. This "old-school" flat roof treatment involves the application of roofing felt (tar paper) and asphalt-based roofing tar, often in multiple layers. A top layer of gravel or a reflective coating is required to cut down on heat gain and improve durability. Maintenance and repair work usually call for more felt and coating layers to be applied. Over time, this adds weight to the roof and increases the mess and expense of its eventual removal. Though BUR remains an economical option, it can't compete with more modern flat roofing materials in terms of low maintenance, lightweight, and durability.
Modified bitumen works well on residential flat roofs. Because it comes in 3-ft.-wide rolls, modified bitumen roofing is easy to handle and apply. Basically, you roll out the material so that seams overlap. Seams can be fused with a torch or sealed with special adhesive. The roof surface gets a reflective coating for durability and reduced heat absorption.
EPDM roofing has a good track record. Despite its exotic chemical derivation, ethylene propylene diene monomer (EPDM for short) has the look and feel of an everyday rubber inner tube. EPDM comes in large rolls and is well-suited to application over any large, flat roof surface, providing the substrate is clean and uniform. The flexible rubber material is glued to the roof substrate and to adjacent EPDM sections (installation with mechanical fasteners is also possible). An EPDM roof can easily last 20 years with minimal maintenance, but its dark tone absorbs a tremendous amount of heat. To prolong the life of this single-ply roof and reduce cooling costs, a reflective top coating is essential. Alternatively, you can pay extra for EPDM membrane with a white top layer.
PVC roofing offers top performance for a premium price. This single-ply roofing material is made from polyvinyl chloride, the same high-performance plastic used in plumbing pipes. Like EPDM, PVC is most frequently used on larger roofing jobs. Seams between PVC sheets are welded together with a specially designed heat gun. The resulting membrane is impermeable to moisture, with excellent durability. Because PVC roofing is naturally white, it has excellent heat-reflective qualities without any coating or extra treatment.
TPO roofing is a light, affordable single-ply option. TPO is short for thermo-plastic olefin, the chemical composition of this fabric-like roofing material. TPO represents a newer roofing technology that's still being refined by different manufacturers. The material comes in rolls of different sizes, making it suitable for a variety of flat roof projects. It can be installed with adhesives, mechanical fasteners, or heat welding. Like EPDM and PVC roofing, TPO requires a clean, uniform substrate; it can't be installed directly over existing roofing material. Although TPO usually costs less than EPDM or PVC, it doesn't yet have the same track record of proven performance.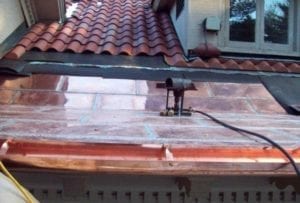 Hire a roofing contractor with installation expertise
Properly constructed flat roofs provide very hardy, long-lasting solutions to complex roof problems. However, unlike institutional applications where a manufacturer's inspector actually certifies that all details have been properly installed and will withstand the brutal New England weather, most homeowners can only hope that the roofer does everything right.
We guarantee that our crew will install your roof according to the manufacturer's standards so that your home is protected today and for many years to come. For example, our roofs have protected buildings at the Army Lab in Natick and the Main Library in Newton for more than 20 years without a single leak. That's peace of mind!
FiberTite Roofing
FiberTite Roofing Membranes are constructed using high tenacity/heavy weight yarns to create a base fabric reinforcement to impart superior puncture, tensile and tear resistance properties. The base polyester fabrics are primed with a unique and proprietary adhesive coat that lays the foundation to physically bond the KEE coatings to the "fiber" to maximize seam strength and overall membrane performance.
Product Features:
Coated with original "KEE" formulation for superior hot air welding characteristics, extreme UV resistance, broad chemical resistance and long-term flexibility
Superior tear and puncture resistance
Resistance against fungus, algae and fire
See Roofing, Flat Roofing before & after galleries:
Roofing, Flat Roofing videos: