Slate Roofing Contractor in Newton, Needham, and Wellesley, MA
As a traditional, natural roofing material, slate provides:
Beauty
High fire resistance
Versatility
Strength
Complete Slate Repair and Slate Installation Services
A slate roof increases your home's aesthetic appeal and value. Slate is unparalleled in design, longevity, and energy conservation.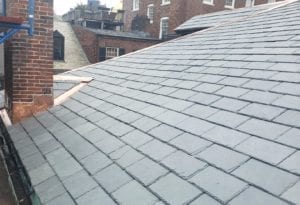 Our skilled craftsmen at GF Sprague have worked on thousands of slate roofs in the area and they know how to analyze and address any circumstance or problem. We are able to provide a cost-effective solution for your slate roofing application. To schedule services for a slate roof call 781-455-0556 or fill out our contact form.
Repair Slate Roofing
Even the best slate roofs require upkeep. For example, all slates will split under the pressure of expanding ice. Also, metal flashings that are critical to keeping water out will wear away after about 50 years.
Therefore, it is critical to conduct a regular inspection and maintenance schedule every three years, or whenever you notice missing or broken slates, or when you see can daylight through the roof. If left un-repaired, your roof will deteriorate beyond the point of a simple repair.
Get a Beautiful Slate Roof For Your Home Today
At GF Sprague, we truly recognize and appreciate the value of your roof and have the expertise to repair it so that you can enjoy leak-free protection for many years to come. We are experienced in working with a wide variety of roofing materials, and we can provide you with expert slate roof repair or installation.
Call us today at 781-417-3894 or contact us online to get a free estimate on slate roofing services in Newton, Needham, Wellesley, Chestnut Hill, Weston, Boston, Brookline, Quincy, Watertown, Cambridge, and throughout the surrounding areas.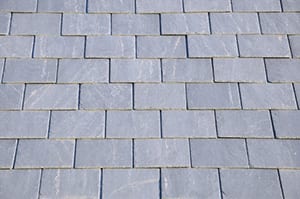 Slate roofing is a unique material
When properly installed and maintained, slate roofing can last for as long as 200 years. However, there are problems that can occur despite this outstanding durability:
Poor design that creates high wear areas
Worn flashings where the metal wears out
Poor maintenance, simple neglect or the use of inappropriate repair materials like tar or caulking, which can trap water causing rot and leaks.
At GF Sprague, we believe that slate roofing is a true "lost art." Our slaters and coppersmiths have the experience in working with slate and copperwork to get the job done right, and to provide you with a beautiful, durable roof.
See Slate Roofing, Roofing before & after galleries:
Slate Roofing, Roofing videos: