COPPER ROOFING CONTRACTOR
Copper Roofing Company in Newton, Needham, and Wellesley, MA
We have the biggest custom copper fabrication shop in the Greater Boston Area.
Since colonial times, copper has been the material of choice for many roofs, roof flashing, and accents on New England homes. Today, the craft of forming and working with copper is a "lost art" practiced by few skilled craftsmen. Our coppersmiths are craftsmen who are trained specifically in the proper design, fabrication and installation of this unique exterior metal finish. Each project is custom-built in our own shop by the same coppersmith who installs the copper on your home, ensuring beautiful, long-lasting protection.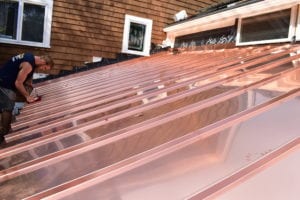 Whether you have a copper roof, copper flashing or gutters, or seek an attractive copper accent, your first call should be to GF Sprague. Our copper artists have years of experience working with this traditional material. Call us today for a free estimate in Newton, Needham, Wellesley and the nearby areas.
Benefits of Copper Roofing
Excellent durability and weather resistance
Beautiful and unique appearance
Lightweight material
Improves home's energy efficiency
Fast installation
Low maintenance material
See Roofing, Copper Roofing before & after galleries:
Roofing, Copper Roofing videos: