Asphalt Shingle Roofing in Newton, Needham, Wellesley
Complete repair and installation of asphalt shingle roofs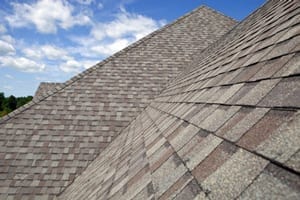 Asphalt shingles protect more homes in New England than any other shingled roofing material. Installed properly, asphalt shingles are the most cost effective roof covering material. Asphalt roofs consist of either a rag fiber (paper) or a fiberglass mat impregnated with asphalt and covered with colored mineral granules. Today, there is an incredible selection of styles, weights, colors,and warranties. Ask GF Sprague to show you what choices best fits your house, your taste and your pocketbook. We offer free estimates on asphalt shingle roofing in Newton, Needham, Wellesley and the nearby areas. Call us today at 
1-781-417-3894
 or click below to get started!
Extending the life of your existing roof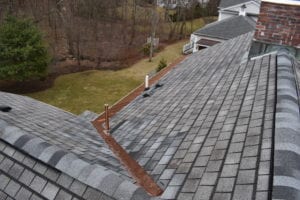 In many cases we're able to add years to your current roof, slowing down the rate of shingled roofing deterioration and - here's the bonus - saving your house from harmful black mold, wood rot, plus insulation, ceiling, wall, frame, and structural deterioration. Our free inspection may very lead to some substantial cost savings. GF Sprague has extensive experience with the installation and repair of asphalt roof shingles. We are authorized to install CertainTeed asphalt shingles, one of the most trusted, reliable manufacturers of roofing materials.
Our trained, experienced roofers make sure that each shingle is nailed down properly to prevent blow-offs and roof leaks. In addition to asphalt shingle installation and repair, we also service a wide variety of 
roofing materials
 and can handle all types of roof repair, new roof installation and re-roofing jobs. Contact us today for a free estimate for the roofing services you need. We proudly serve Chestnut Hill, Weston, Boston, Brookline, Quincy, Watertown, Cambridge and nearby towns and cities.
Benefits of asphalt shingle roofing
Low maintenance - When installed properly, asphalt shingles require little maintenance & can be easily repaired if damaged.
Affordability - The low material cost & long life expectancy of asphalt shingles provide unmatched value.
Versatility - Asphalt shingles are available in an array of styles and colors to match any home.
Durable Protection - Most asphalt fiberglass shingles have a Class A fire rating and excellent wind resistance.
See Roofing, Asphalt Roofing before & after galleries:
Roofing, Asphalt Roofing videos: