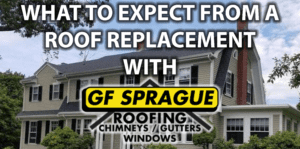 Roof replacement is a wise investment that will not only preserve the structure of your home but increase its value. Because of the size and significance of a roof replacement, it is vitally important that you choose the right contractor and properly prepare for the installation. At G.F. Sprague we offer asphalt shingle, slate, tile, and metal roof replacements. This article will offer you a firm understanding of the options for a roof replacement and what the process will look like. Here are the various roof replacement options and steps you will come across in the process of replacing your roof with G.F. Sprague.
Asphalt Shingle Roof Replacement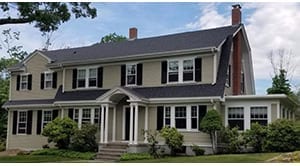 Asphalt shingles protect more homes in New England than any other shingled roofing material. Installed properly, asphalt shingles are the most cost-effective roof covering material. Asphalt roofs consist of either a rag fiber (paper) or a fiberglass mat impregnated with asphalt and covered with colored mineral granules.
Today, there is an incredible selection of styles, weights, colors, and warranties. G.F. Sprague has installed countless asphalt shingle roofs in the 50 years we've been in service. We employ professional craftsmen to install your asphalt shingle roof replacement. Ask GF Sprague to show you what choices best fits your house, your taste, and your pocketbook.
Stale Tile Roof Replacement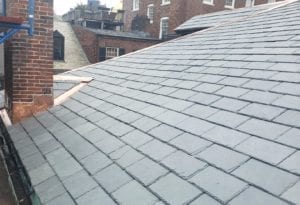 As a traditional, natural roofing material, a slate roof replacement provides elegance, high fire resistance, versatility, and durability. A slate roof enhances your home's aesthetic appeal and worth. Slate is unique in design, longevity, and energy conservation.
Our skilled craftsmen at G.F. Sprague have worked on thousands of slate roofs in the area and they know how to examine and address any situation or problem. We are able to provide a cost-effective solution for your slate roof replacement.
Spanish Tile Roof Replacement
Spanish tile roof replacements are a less frequent choice by homeowners but are just as durable and aesthetically-pleasing as the other options. With their classic Mediterranean appearance, tile roofs emphasize a stucco home perfectly. If you are looking to move forward with a tile roof replacement, ask your local roofing company about this option.
Cedar Shake Roof Replacement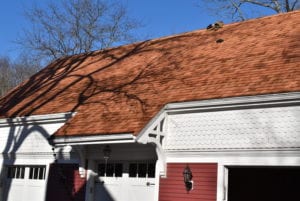 Natural wood roofs have been protecting homes for centuries. Cedar Shake roof replacements are commonly installed in this area of the country. Wood shingles are aesthetically pleasing and provide natural beauty. At one time, the vast majority of homes in America were protected with natural wood roof shingles.
Homeowners have chosen wood roofing replacements for an assortment of reasons – the traditional look, a want to use natural materials, and historic accuracy. Because of differences in the color, width and thickness of wood shakes and shingles, no two wood roofs are the same. With proper care and maintenance, a wood roof can provide beautiful and dependable protection for your home.
Standing-Seam Metal Roof Replacement
Metal roofing has a rich history and an optimistic future as a roofing option on residential buildings.
The earliest metal roofs were "standing seam" roofs that skilled contractors fabricated on-site from large rolls of sheet metal. Today these conventional metal roofs can still be found on historic houses. These days, most modern metal roofing comes in the form of factory-made steel panels.
Ridges formed in the panels form overlapping seams during roof installation. Factory-applied finishes provide corrosion resistance and color choices.
Copper Roof Replacement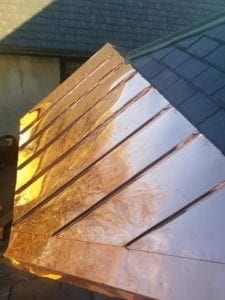 Since colonial times, copper roofing has been the material of choice for many roofs, roof flashing, and accents on New England homes. Today, the craft of forming and working with copper is a "lost art" practiced by few skilled craftsmen. Our coppersmiths are craftsmen who are trained specifically in the proper design, fabrication and installation of this unique exterior metal finish. Each project is custom-built in our own shop by the same coppersmith who installs the copper on your home, ensuring beautiful, long-lasting protection.
Whether you have a copper roof, copper flashing or gutters, or seek an attractive copper roof replacement, your first call should be to GF Sprague. Our copper artists have years of experience working with this traditional material.
Getting an Estimate:
While shopping around for different trusted and reputable contractors, you will hear a multitude of estimates based on the state of your current roof, the materials chosen, the size of your home, and more. The price of different estimates from different contractors will be on a wide scale based on a multitude of factors. It is important to research each contractor and look at their reviews and credibility.
Certified Inspection:
Certain contractors offer a certified inspection of your home to properly diagnose the root cause of your roof's damage. During this inspection, they will carefully evaluate all aspects of your roof and identify any areas that need repair or replacement. This includes but is not limited to: wood rot, cracks in the chimney, rusted or missing flashing, worn or missing shingles, and more.
Choosing the Right Materials: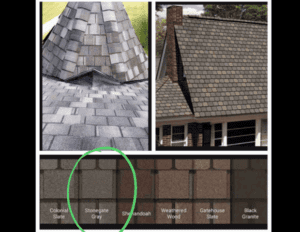 After choosing a contractor and going forward with the installation, you will be provided with various options for the materials used. This could be the option between aluminum or copper gutters or asphalt or slate shingles. Your certified expert will advise you on the best option for your specific roof.
Getting the permit:
One often forgotten aspect of this process is getting a roofing permit from the proper authorities. The length of time of this process could differ based on the age or registered history of the home. Most historic properties require approval from the historic district. Getting a permit ensures that the installation is up to code and following all applicable municipal regulations. Once contractors have the permit, they can begin installation!
Preparing for work:
In the days leading up to your roof replacement, you should expect to see a dumpster and materials delivered to your home. Speak to your certified expert if you have any special requests or need specific parts of your property or landscape protected during the installation.
Existing roof torn off:
On the first day of installation, your previous roof will be torn off and distributed to the dumpster. Because of the high noise level and failing materials, you should keep all family and animals inside for everyone's safety.
New roof installed:
After your previous roof removal, the craftsmen will go forward with installing the new roof. Most single-family home roofs can be installed in a single day with exceptions. If your home is larger or more complex, the installation could take anywhere from two to seven days. Factors such as weather or a national emergency could cause delays in the installation. Also, certain materials (such as slate or tiles) can take longer to install compared to asphalt shingles.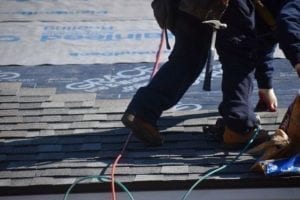 Extra work:
During the process of installation, your contractor may find problem areas that could hinder their ability to install the new roof. Mold, rot, or damage could appear during the process of removal.
Clean up:
After installation, your contractor will do a proper clean-up of your property of any materials or nails. Depending on the contractor, clean-up could go one way or another. A cheaper contractor will often leave nails and old shingles lying around your landscape, while an established contractor will use a magnetic device to ensure that no nail is left on the property and no person or animal's foot is cut.