Home to many private schools and colleges, Brookline, Massachusetts, is ideal for commuters and families to call their home. Brookline is filled with historical and cultural sites that have served as a foundation for architecture across the town. The classic brick houses and slate roofs adorn the streets in Brookline. If you are a Brookline resident and looking to have a roof replacement or roof repair, then you're probably browsing potential roofing contractors. Because replacing your roof is a big investment, homeowners should carefully research each potential Brookline roofing contractor before going forward with the installation.
Most Brookline roofing contractors offer an inspection of just the area you're calling about or even price out a replacement for you regardless of the size of your issue. At G.F. Sprague, we have experts who give a certified and in-depth inspection of your roofing system to guarantee there aren't any missed points. They not only look at what you want to have done but take the time to let you know what needs to be done. Besides offering expert roof inspections, factors such as business reputation, financing, and warranties are important to acknowledge. This guide will provide the necessary steps to be taken before selecting a Brookline roofing contractor. 
BROOKLINE ROOFING CONTRACTOR BUSINESS REPUTATION:
Online Reviews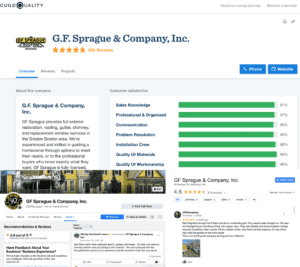 Going onto websites such as Google, BBB, GuildQuality, and Facebook will offer you a look into past customer's experiences with Brookline roofing contractors. Reviews provide a look into the services a company offers and their customer service and reliability. Roofing contractors that do not have business pages for reviews are contractors that any homeowner should be careful with. Purchasing a roof replacement is a big investment, so researching a roofing contractor's history with their customers is extremely important. You want to know that your contractor will be there whenever you call them.
BROOKLINE ROOFING CONTRACTOR AVAILABILITY:
Some homeowners need a roof replacement in the next few weeks, but other homeowners may need a roof repair immediately. When emergency strikes, calling a Brookline roofing contractor and asking for their emergency services is one of the first steps, a homeowner should take after damage. A reputable roofing contractor will have emergency services available 24/7.
If a homeowner is looking to schedule an upcoming roof replacement, it is important to call a Brookline roofing contractor ahead of time to book a spot. Take into consideration that most roofing contractor's schedules fill up very quickly. In the case of weather, certain seasons offer higher levels of availability than others. In winter, there is often greater availability. Do not be turned off by the snow; roofers are trained to handle all weather types, whether it's 90 degrees in the summer or 10 degrees in the winter.
BROOKLINE ROOFING CONTRACTOR CUSTOMIZATION OPTIONS: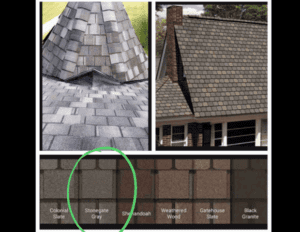 Because every homeowner has a different style and type of roofing they prefer, we have a wide variety of design options to choose from. As your local roofing company, we have been Brookline's top roofing contractor for the past few decades and understand Brookline homes' and neighborhoods' architecture. We recommend that you pick shingles that flatter your home without being distracting from other architectural features. Traditional shingles offer a beautiful roof for a Colonial home, slate tiles are the perfect foil for the extensive trimming on a Victorian home, and your cabin in the woods or more rustic home will look excellent after our Brookline roofing contractors install cedar wood shakes. If you would like to refer to past work we have done in Brookline, we have a gallery filled with photos!
THE STYLE OF YOUR HOME AND NEIGHBORHOOD'S ARCHITECTURE: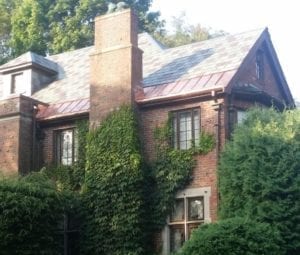 In Brookline, Massachusetts, there isn't just one type of roof. Asphalt shingle, Spanish tile, slate, copper, and others adorn the roofs of homes across Brookline. Since Brookline has many historical neighborhoods, it is important to hire a roofing contractor specializing in historic restoration. Not only will it be an easier process with the town, but it will guarantee a well-crafted installation by an experienced installer. If you're a Brookline homeowner who isn't in a historic neighborhood, it is still important to know if your desired roofing contractor will honor your home's style and structure and provide the perfect roofing system for your needs. Keep in mind matching your neighborhood's style won't just give your home a great aesthetic, but that type of roof was chosen for a functional reason in the first place.
WARRANTY OR NOT:
No matter how strong the materials are, if your roofing contractors use shingles that don't offer a reliable warranty, you aren't protected against potential difficulties with product flaws. Since every brand uses a somewhat different method to produce their Brookline roofing materials, you should always ensure a good warranty is in place. In most cases, the safest warranty will be the one found on the best components. At G.F. Sprague, we offer Certainteed shingles for roofing Brookline homes that carry some of the best warranties in the business, and we back up our own workmanship with our Forever Whoever Warranty. Our warranty protects your home against problems related to workmanship for an unlimited time and for an unlimited number of owners throughout the useful life of the product or system that was installed.
BROOKLINE ROOFING CONTRACTOR MAINTENANCE SERVICES:
Our Forever, Whoever warranty includes regular inspections to ensure that the roofing system is structurally sound and that there is no damage needing to be repaired. This allows you to either get a clean bill of health on your roof, or we can catch a small issue before it becomes a big headache. In an emergency, we also provide you 24-hour emergency services. No matter the weather or condition, we will be out there to make sure you can sleep sound at night without worrying about your home or family. 
USE TRUSTED BRANDS: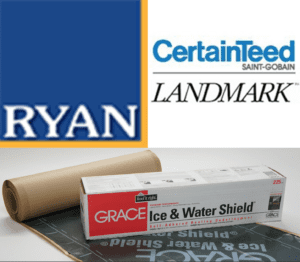 As a Brookline roofing contractor, we not only prioritize craftsmanship but product integrity as well. For this reason, we use local and the most respectable brands in the industry. Unlike other Brookline roofing contractors, we don't use box store brands found at a local Home Depot. Instead, we buy from reputable manufacturers of asphalt shingles, slate, copper, and more. Ensuring that the product is properly made and properly installed is vital in creating a roofing system that withstands the elements.