Today we celebrated the installation of our brand-new mock training roof in our fabrication shop!
Not
every day do you see a roof INSIDE a building! Unless, of course, you work at G.F. Sprague. Today our brand new mock training roof became a part of our fabrication shop and a part of our family. We celebrated this marvelous creation with a ceremony to lay the first slate! Together, (socially distanced) we watched Vice President Jake Sprague do the honor of hammering two copper nails through the slate shingle and into the roof. The production team and bystanders stood in awe of the beauty that is slate roofing. After weeks of boardroom meetings, endless designs, and a grueling installation, the roof finally came to fruition and was now ready to be unveiled! We gave thanks to our master craftsman, Paul Whalen for constructing this perfect replica of a Boston roof. If it wasn't for his expertise, we wouldn't be here.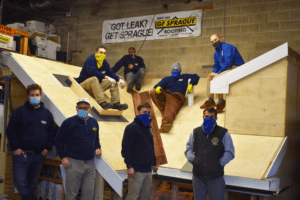 After the laying of the first slate was complete, we all came together for a "photo-op." The sounds of heavy boots and muffled laughs filled the workshop. As you can see in this photo, we have fabrication shop manager, Nino Lombardo sitting inside a skylight and fabrication shop assistant, James Auditore resting his arm on the soil pipe. Fortunately for James, this pipe does not connect to any bathrooms. In the front row, we have (from left to right) production coordinator, Bobby Scriber; CEO and founder Jerry Sprague; project manager, Matt D'Agostino; and production manager, Steve Herget. In the far back sits Paul Whalen and perched on the right roof is VP Jake Sprague.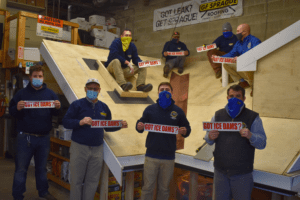 This new mock training roof represents G.F. Spragues' commitment to investing in our craftsmen's growth. We not only want to see our services succeed but we want to see our team member's careers succeed as well. Installing this mock roof ensures our customers that every craftsman is properly trained and prepared for your roofing project. And remember, if you "Got Ice Dams, Get G.F. Sprague!"