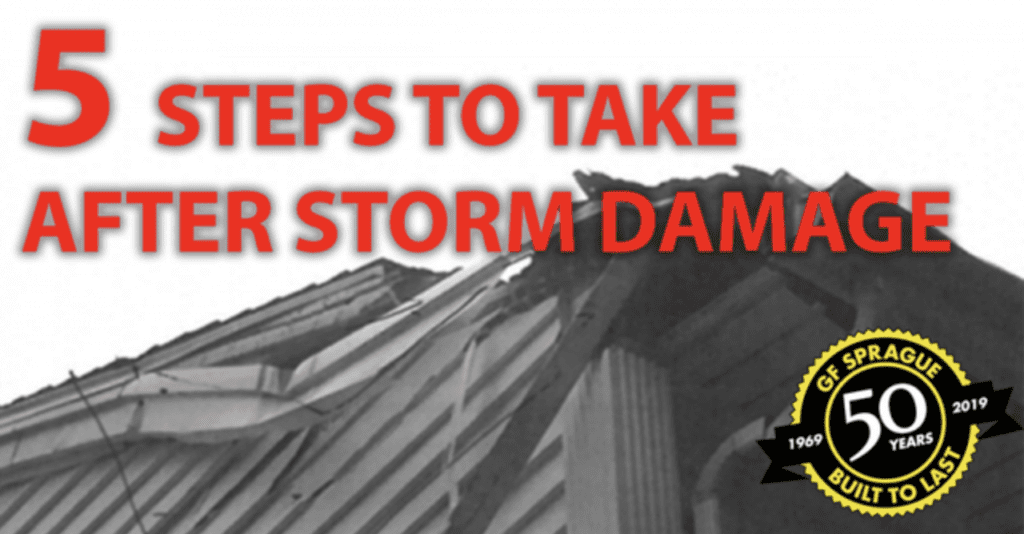 Severe storms can surprise you when you least expect it. But the bigger surprise is finding leaks or gutter build-up that storm damage had caused months after the storm passed. While we can't control nature, we can maintain the steps we take after a storm to ensure that our home and lives are safe.
1. Take Safety Precautions
If you see any downed power lines in the vicinity of your home, call the police and utility company as soon as possible. You should never go within 10 feet of a downed power line. Electrical wires can be energized and extremely dangerous.
If the power is out and you need to inspect your home in the dark, use a flashlight instead of a candle. You do not want to risk an open flame lighting a gas leak and starting a fire.
If you suspect gas is leaking in or around your home, shut off the main gas line, open the windows and take everyone outside. Alert the police and the gas company about the leak and don't assume the gas is gone until the authorities have told you you can return.
Be sure to check any security footage or home camera system you have installed at your house to check for any burglars or trespassers.
2. Assess the Damage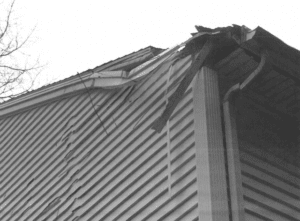 Take pictures once it is safe to do so. To file an insurance claim for storm damage, the insurance adjuster will need those photos to better understand the situation.
Most storm damage won't be readily observable; it can be as subtle as shingle granules collected in your gutters. While a fallen tree branch warrants pictures for your insurance company, here are some lesser-known signs of roof damage that deserve your attention.
What to look out for: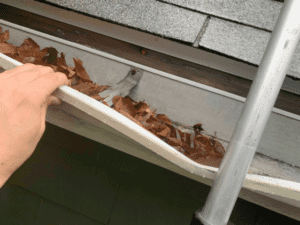 Split seams: If you have a flat membrane roof, seams that exist to keep water and debris out of your home can split from storm damage. It can lead to a hazardous situation for your home as water pools easily on flat surfaces. Make sure to check if your flat roof has any split seams.
Missing, dented, or broken shingles: Heavy wind is a leading cause of asphalt shingles flying off your roof and causes your roof to lose a protective barrier against debris and water. Broken shingles, such as slate, pose the same threat as missing shingles. Check all sides of your roof to see if there are spots where a shingle or shingles are missing.
Leaks on your roof or ceilings: In addition to assessing the outside of your home, don't forget to check the inside. Inspect your attic and ceilings to see if there are any leaks or staining that could be caused by storm damage. Your basement can also be a problem area if your gutters and downspout aren't correctly directing water away from your home.
Dents on gutters, vents, or flashing: Fallen debris at high speeds or heavy snow during a storm can leave an impact on various aspects of your roofing system. If your gutters or flashing is dented, it provides an easy water entry into your home through your ceiling or basement. If your vents have been damaged, this will negatively impact the airflow through your home and lead to an improper distribution of temperature in your home that can cause leaks and mold growth.
3. Tarp the Roof
If possible, buy or use a spare tarp and safely cover the area of storm damage. Storms can yield more rain and the potential for leaking inside your home. Most roofing specialists will assess emergency storm damage when called.
4. Contact Your Insurance Provider
If you have insurance, call your insurance provider to receive compensation for the damage received by the storm. You will need to provide documented evidence of storm damage. Don't forget to save any receipts from hotel costs or temporary living expenses.
5. Call a Roof Inspection Company
In addition to calling your insurance provider, you must contact a professional exterior restoration company to come and repair any emergency damage. Storm damage neglected or improperly repaired can quickly lead to structural damage and mold growth, impacting you and your family's health and safety.
GF Sprague is distinguished in the industry by our commitment to deliver an alternative for customers who insist on qualified, accredited roofers. We always offer industry-standard specifications, trained and certified craftsmen, competitively priced options, and real-deal warranties. Delivering the right job at the right price, GF Sprague brings the experience and expertise required by professionals to your home while maintaining reasonable rates.