Your roof is the only thing protecting your home, and the people inside it, from dangerous outside elements. Simply put, you're putting your home and your family at risk by overlooking roofing problems or putting off repairs. 
Fortunately, getting a new roof is one of the highest-value home improvement projects you can do, with an estimated 85% return on investment. Throughout this detailed guide, we'll cover some of the most common roofing problems, the different types of roof replacement services you should explore, and additional services that can benefit your roof. 
This will help you better understand how to tell if you need a new roof and learn the actions to take when you notice an issue, helping to prevent more expensive, large-scale damage to your home. 
Common Roofing Problems 
Depending on the type of roof you have and where you live, your roof can last for decades. However, eventually, even the highest-quality roof will become susceptible to some type of damage. Here's a closer look at common roofing problems so you know what to look for when inspecting your roof. 
Wood Rot
Most of the time, you won't notice wood rot on your roof until you start to do another project, like replacing missing shingles or painting an exterior window frame. Since it's hard to spot otherwise, it's one of the most dangerous roofing problems. If left untreated, wood rot can spread and potentially cause structural damage to your home. 
Roof Leak
One of the most obvious signs that your roof is in need of repair is when it starts leaking. A roof leak can happen for a number of reasons, like when your shingles get damaged in a storm, when your gutters are clogged, or when there's damage to your soffit or fascia. Whatever the reason, you'll want to take care of the root cause of the problem as soon as possible, before it leads to structural damage. 
Hail Damage
A severe storm poses a real threat to your roof, especially when it hails. Large pieces of hail can damage your shingles and gutters, leading to leaks and potentially even interior home damage. Even if you don't notice a leak during or immediately after a storm, there could still be some damage that will only get worse over time. Take strong storms seriously and schedule a roof inspection if you think there's even a chance that your roof is damaged. 
Ice Damage
If you live in an area that gets icy, snowy weather, you should be aware that it poses a risk to your roof. Oftentimes, ice dams form along the edge of the roof, trapping water behind them. This trapped water can make its way underneath your shingles, causing leaks and damage to your home's interior. If you notice ice dams along your roof, it's best to call in the help of a roofing professional. 
Expert Roof Replacement Services
If you notice any of the common roofing problems we discussed above, don't hesitate to contact a roofing company for help. The sooner you can address a problem, the less likely you'll find yourself dealing with more expensive damage down the line. Here are a few of the roof replacement services you can consider scheduling if you notice signs of damage.
Roof Inspection
The first step in identifying whether your roof needs repairs or a full replacement is to get a thorough roof inspection. During this process, a certified roofing contractor will come out to your home and inspect the structural integrity of your roof. 
They'll identify any damaged areas and any signs of potential issues that may become more serious down the road. From there, they'll come up with a plan of action to either repair or fully replace your roof so that it's structurally sound once again. 
Roof Repair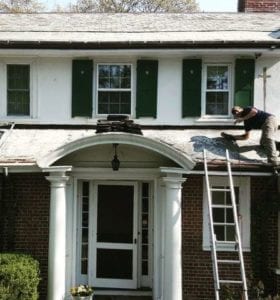 After your inspection, you may need certain roof repair services to get your roof back in good working order. This can include fixing leaky spots, repairing or replacing shingles, and more. If your roof is to the point that repairs won't be enough, then you might need a full replacement instead, which may actually save you money over the life of your roof. 
Snow Removal
While it may be tempting to clear snow off your roof by yourself, it can be a dangerous chore. At the same time, leaving snow and ice on your roof can lead to damage. Your best option is to hire a roofing professional to remove the snow for you. When you hire snow removal services, it will be done safely, without causing damage to your shingles or gutters. 
Additional Services
Aside from the roof replacement services we discussed above, there are a few other things you can do that will ultimately benefit your roof and keep it in good shape. Consider scheduling these services to help prolong your roof's lifespan. 
Vents and Ventilation
Without proper ventilation, your roof vents may malfunction, which can cause your roof to deteriorate. During the winter, poor ventilation means that heat will escape from your home, melting the snow that sits on your roof. 
Eventually, the melted snow will refreeze, which makes it more likely for ice dams to form. Making sure it's properly ventilated will address the root cause of ice dams, helping to prevent expensive damage. 
Attic Insulation
Insulating your attic helps prevent heat and air conditioning loss through your roof, helping to keep your home more comfortable no matter the temperature outside. Attic insulation can also help lower your electricity bill by making your home more energy-efficient. This can benefit your whole home and make it easier for your roof to do its job. 
Make Sure Your Roof Is in Good Hands
Whether you have noticed signs of roof damage, need a few repairs, or it's time for a full replacement project, the GF Sprague team has your back. Our expert roofing specialists are ready and waiting to take care of your roof so you can focus on the more important things in life. Contact us today to request a free roof inspection.