Challenge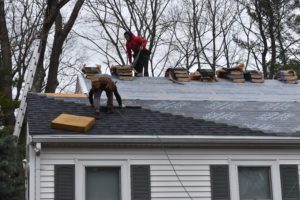 For this project a local homeowner in Cambridge, MA called us citing issues with leaks in their asphalt shingle roof after one of the recent storms. We got them set up with an appointment right away so our certified expert could perform a full 10 point inspection on their asphalt shingle roof. What we discovered was that there were a couple of sections of the roof that were experiencing leaks. In particular, some of the most affected areas were around the edge of the roofline.
Solution
The only solution to ensure that this homeowner would be protected was to provide them with a full asphalt shingle roof replacement. While many companies may say they can install your shingle roof, you need to do your homework to make sure they know what they're doing. Two simple things to consider are how the shingles are installed and how the ice and water shield is applied. The ice and water shield is a key layer of defense against water for your home, so having it installed the right way is critical. This means taking the time to fascia wrap it, making sure that there are not any openings for water to get into your roof where the gutters meet your roof.
The other key with the shingles is not just making sure they're installed securely, but in the most effective pattern as well. You can see in a few of our pictures how the shingles are installed in staggered rows, resulting in a pattern that resembles the steps going up a pyramid.  The reason for installing a shingle roof this way is to make sure you're not creating channels for water to easily run through and get into the roof. While these things may not be what you think of when considering a shingle roof replacement, they are definitely critical elements that lead to a successful project, just like this one in Cambridge!
Shingle Roof Replacement in Cambridge, MA