Emergency Repairs Services in Newton, Needham, Wellesley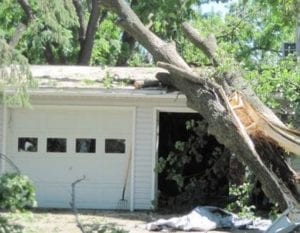 If your roof should suffer a small leak to catastrophic damage as a result of wind, rain, snow, ice back up, falling trees or utility poles, you often can't wait for a sunny day to make repairs! Or if your chimney or gutters are damaged and immediate repair is necessary, there is only one call to make: Call the experts from GF Sprague!
Our Emergency Response Team is "on call" 24 hours to provide emergency repairs. We'll make short-term repairs to help prevent further damage and protect your property. Then we'll assess whether more permanent repairs are necessary. We'll also document the damage for insurance claims.
GF Sprague provides complete emergency roofing services in Needham, Newton, Wellesley and the nearby areas. Give us a call or contact us online for a free estimate!
A quick response can save you money
You may be tempted to delay repairs to a damaged roof, chimney or gutter. But, left open to the weather, your roof, chimney or gutter will deteriorate rapidly, and place in danger the rafters, sheathing, insulation and, eventually, your ceiling and walls. Water seeping into your walls can also reach electrical systems and cause fires.
It can take up to 18 months for water damage from a damaged roof to show up as a ceiling, wall or window leak! So make the repairs as soon as possible to prevent further damage and avoid more expensive repairs down the road.
Call 508-527-7453 for Emergency Service
When disaster strikes or when you don't want small problems to become big headaches, call the experts who know what needs to be done – GF Sprague. Call us today at 508-527-7453 for complete emergency services in Newton, Needham, Wellesley, Weston, Chestnut Hill, Brookline, Boston, Cambridge, Quincy, Watertown and the nearby areas.