Like the human body, the house is made up of multiple elements that work together in order to make it function properly as your comfort zone in Brookline Ma. But, like our bodies, a house doesn't take care of itself. It needs special attention that comes in the form of routine check-ups, accurate evaluations on all of its components, and the occasional repair.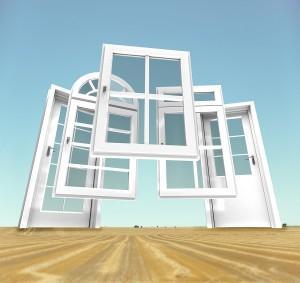 One of the most vital parts of your residence is its windows, which are similar to your eyes in that they help you form a visual perception of the world around you. Consider the importance of vision exams and how they benefit your health. Then, think about the essence of regular inspections for windows which ensure they're performing properly and consistently adding value to your home.
The condition of your windows can become questionable overtime just like the strength of your eyeglasses. When this happens, it's time for new lenses or better frames. You wouldn't rely on an unqualified person to fit you for replacements that better your vision, so why trust an inexperienced individual to handle your repair solutions for your windows?
There are several facts that you should take into account if you're ready to begin the process of investing in high-quality replacement windows. Check out some popular questions to help point you in the right direction.
What's the Overall Purpose of Having Replacement Windows Installed?
Before reaching out to a leading company in the industry, you need to understand the objective behind replacement windows. Durable windows protect homes from inclement weather conditions, as well as criminal activity. In addition, they provide a unique aesthetic quality that gives your home the curbside appeal it deserves.
What Type of Replacement Windows Should I Choose?
One of the most challenging tasks for clients obtaining replacement windows is to determine which ones are the right fit for their residence. Fortunately, there are several options available: aluminum, vinyl, fiberglass, and wood windows. You just need to decide which best coincides with your individual needs and preference.
Aluminum replacement windows, for instance, work well for homeowners who aren't interested in being hands-on, in terms of regular maintenance techniques. Also, keep in mind that larger rooms fair well with this type of window since big spaces allow for more light and amplified glass exposure.
You'll probably want vinyl replacement windows if you value sound insulation. These are the easiest to clean as well. Double-glazed vinyl windows are favored for their affordability and are the most likely to fit your budget.
On the other hand, fiberglass replacement windows are typically the most versatile choice. Homeowners often enjoy the flexibility available in shape, design, and color. And, if you're a stickler for promoting environmental friendliness, it's also a good idea to note that these windows are recyclable.
If you're a traditionalist, you'll take comfort in the refinement and classic style of wood replacement windows. Aside from the natural finish that they provide, these windows are also revered for unlimited patterns that are carefully crafted to match a customer's personal taste.
How Do I Prepare for the Initial Replacement Window Consultation?
Never blindly walk into an estimate review with prospective contractors. This will only lead to disappointment. Instead, you should have a list of questions ready to help you clarify rates, insurance needs, warranty issues, business models, and the quality of installments. The goal is to ensure that the network of tradesmen that you hire fully knows how to meet your expectations.
How Long Should I Expect the Installation Process to Take?
The time frame for the replacement window process typically depends on the size of the house and the type of windows that are being installed. The weather is also a determining factor. Most procedures take a few hours.
How Should I Prepare My Home for Replacement Window Installation?
Make sure you remove all blinds, curtains, and surrounding furnishings that could interfere with the installation process. You don't usually have to worry about disposing of your old windows, as most contractors will do this for you unless you've already requested keeping them in your possession.