Many of us are guilty of not giving much thought to our gutters until, of course, they become an issue. While your gutters may not get the attention they deserve, they play an important role in protecting your home from serious water damage to your roof, siding, and even the foundation.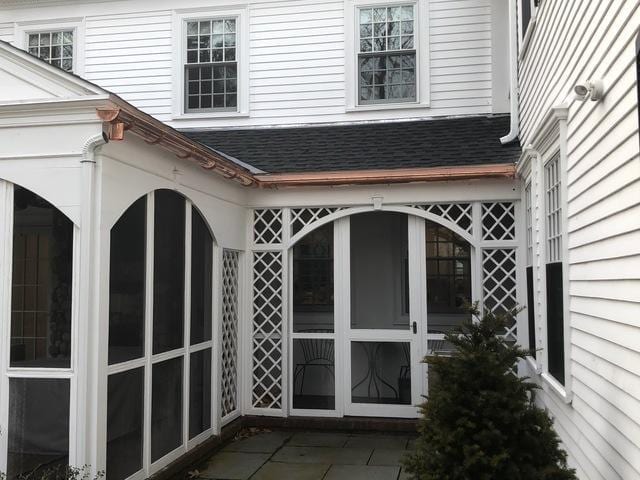 Throughout this detailed guide, we'll cover signs of gutter damage, some of the different gutter materials on the market, and what to expect during the gutter installation process when you hire GF Sprague. This will help you feel more prepared when it comes time to replace your gutters, so you can get through the process with ease.
Signs of Gutter Damage
Most gutters are designed to last for decades. But, eventually, even the highest-quality gutters will need some TLC. Here's a closer look at some of the most common signs of gutter damage so you know what to look for the next time you inspect them. 
Standing Water
The main function of your gutters is to keep water flowing and draining. If you notice small pools of water in your gutters, it's a sign that they're no longer working properly. While the source of the issue could be as simple as a clog, it could also indicate a more serious issue, like a defect in your gutter system. Don't hesitate to get them inspected at the first sight of standing water. 
Cracks
If you notice small cracks in your gutters, it might not seem like a serious issue. At first, it probably isn't. These small cracks, however, will eventually get larger, which can lead to damage. Not only can cracks lead to damage behind your gutters, but they can also result in damage to your foundation and your roof's shingles. 
Sagging or Pulling
One of the easiest ways to tell that it's time to replace your gutters is when you notice that they are sagging or starting to pull away from the sides of your house. This is usually a sign that they are full of water and the extra weight in them compromises their structure. In many cases, sagging gutters are expensive to repair, so it's better to plan for a full replacement instead. 
Rust
If you have metal gutters, noticing significant rust on them is a clear sign that their structural integrity is compromised. While small rust spots may not be cause for concern, you should hire a professional to inspect larger spots and help you determine whether you need repairs or a full replacement. 
Broken Seams
Finally, your gutters should have an airtight seal at every seam. If you notice any broken or damaged seams, your gutters are at risk of leaking and causing water damage to your home. In most cases, gutters with broken seams require a full replacement. 
Types of Gutter Materials
If you notice any of the signs of damage we've outlined above, it's time to start thinking about scheduling a gutter replacement project. In that case, you can choose from a variety of different gutter materials based on what best suits your needs. Here's a closer look at the options we offer here at GF Sprague. 
Wood Gutters
If you want your home to have a classic, historic feel, wood gutters are a great option. Most often, they're found on Victorian or Antique Colonial homes, but they can work on a variety of different home styles. 
Aside from giving your home a unique flair, wood gutters can also be treated so they're just as durable as other gutter materials. 
Aluminum Gutters
Here at GF Sprague, we proudly offer seamless aluminum gutters, which can be custom-made to fit your home's specific dimensions. This eliminates the need for seams, which can help your gutters last longer, as they are less prone to damage. 
One reason our customers love aluminum because that it comes in a variety of colors to perfectly match your home's aesthetic. Aluminum also won't rust or corrode over time, making it a low-maintenance option. Perhaps best of all, it is one of the most affordable gutter options on the market. 
Copper Gutters
If you want to make a statement, there's no better option than copper. This striking material ensures that your gutters are as beautiful as they are functional, adding a unique design element to your home. 
Unlike other options, copper gutters are soldered at their joints, so you never have to worry about leaks. While they are a more expensive option, they're also extremely high-quality, offering unmatched durability. 
What to Expect During the Gutter Installation Process
When you choose GF Sprague for your gutter repairs or replacement, you'll have peace of mind that we always have your best interests in mind. The first time we come out to your home, we'll give your gutters a full inspection, checking for cracks, leaks, and any other potential issues. 
From there, we'll determine whether you need repairs or if you'd benefit more from a full replacement process. Either way, we'll walk you through all of your options so you can feel comfortable about the decision you make for your home. 
Keep Your Home Protected With High-Quality Gutters
If you notice signs of gutter damage, the GF Sprague team has your back. Our expert gutter installers are ready and waiting to take care of your gutters so you won't have to worry about more expensive damage down the road. Contact us today to schedule a free gutter inspection.