Snowstorm damage is a common fear among homeowners. It's wintertime again and with that comes holidays, virtual family gatherings, cozying up by the fire, and the dreaded snow and ice. While snow can be beautiful and nostalgic, it can also be your worst enemy if your roofing system doesn't have a proper snowstorm damage prevention system. A small crack in your skylight or a build-up of leaves in your gutters can easily lead to water damage from a snowstorm's heavy snow and ice. When a snowstorm is forecasted, it is vitally important to walk around your home and check to see if every part of your roofing system is ready for the weather. Read further to find out the expert-recommended steps you should take for potential snowstorm damage.
Ice Dam Prevention And Roof Snow Removal In Boston
Ice dams can cause serious structural damage and black mold to your home if left in place. The best way to combat ice dams is to prevent ice from occurring in the first place with preventative measures and roof snow removal in Boston. At GF Sprague we have over 50 years of experience preventing damage from ice dams and performing ice dam removals in and around Boston.
Importance of Preventing Ice Damage
Ice dam removal on Greater Boston homes is necessary for several reasons: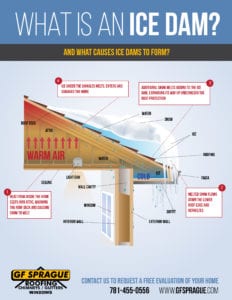 Roof, Gutter and Siding Protection from snowstorm damage

Ice dams are the most destructive force to your gutters, siding and roof system including roof membranes, underlayment, flashing, deck boards, and shingles/slates. Preventing them will keep your roof, gutters, and siding in shape so they will last as long as intended.

Protection Against Interior Snowstorm Damage

Ice dams cause hidden damage in the attic, ceilings, and walls of homes (including insulation and windows). Even if water seeps in, it may go undetected for years. When it finally is detected, what could have been a small repair becomes a major headache.

Structural Safety from snowstorm damage

Our ice dam removal in Boston provides peace of mind for property owners. It's no secret that when the roof has issues the whole house is vulnerable and at serious risk. Preventing ice dams from forming and removing them soon after they form will keep your roof in good repair, so it is watertight and able to do its job. This will also extend the roof's life and lower the risk of black mold. 
Full Spectrum Of Solutions For Ice Dam Prevention And Ice Dam Removal In Boston
At GF Sprague we use both proactive and reactive methods to prevent ice damage. This two-pronged approach takes care of immediate threats and protects the home against future threats.
Proactive Solutions.

Proactive solutions are used when there are currently no ice dams present. Solutions include roof ventilation and insulation, as well as roof snow removal on Boston homes. To prevent ice dams, the attic temperature must be kept as close as possible to the exterior air temperature. We do this by ventilating the attic and by adding insulation to the house. Roof vents keep attics cooler while insulation helps keep heat from escaping into the attic. Both of these solutions help lower the damaging effects of the normal freeze-thaw cycles that lead to ice dam formation. Roof snow removal on Boston homes is another effective way to prevent ice dams because we are removing the snow before it has a chance to melt and re-freeze.

Reactive Solutions.

Reactive solutions are used when ice dams are already on the home. Our two primary methods focus on roof snow removal on Boston homes and the application of a premium ice and water shield. The first step is to get rid of the immediate threat, snow and ice.  Roof snow removal on Boston homes is necessary to remove the source of the water that is forming the dams. Second, the ice and water shield provides a barrier against the melted snow and ice, helping to prevent moisture from getting into the house.  Most shields fail to protect due to improper and inadequate installation. Solutions will vary depending on the design of the house but they are all designed to keep water from entering the home.
What To Expect When You Call GF Sprague
In order to provide the best solution to your particular problem, we'll need to come out and inspect the home. After you call to set up a time for us to come out and meet with you to discuss ice dam removal in Boston, the process typically proceeds like this:
Step 1. Our experienced team will inspect your home and any ice damage or existing ice dams and provide an assessment of your needs. We will listen to what you want to have done, and then we also look to see what may need to be done. Our certified expert will perform a full inspection of your roofs, gutters, chimneys and windows usually in one visit. We may go in your attic and onto your roof. We'll take digital photos of all the problem areas so that you can see what we saw.
Step 2. You will be provided with a complete color coded plan, written assessment and our recommended solutions. In exchange for our time and effort, all that we ask in return is that anyone having input, be present to discuss your options. We believe that this comprehensive approach provides you with the best way to make a good informed decision.
Step 3. Given your approval, we will do the work to the specifications listed. If we find additional issues that were not known we will bring them to your attention and provide you with options.
You'll have "peace of mind" with our "one and done" solutions to ice dam problems. For that reason, and because there are so many different solutions we can choose from, we strongly recommend having one of our certified experts come to your house, meet with you, assess your needs, and offer solutions in person. While it can seem like brain surgery at first, ultimately it comes down to following time tested practices that have proven to work. 
Next Steps 
If you would like to arrange a free, no-obligation inspection of your roof ventilation system or to discuss ice dam prevention or ice dam removal in Boston, call us at 781-455-0556. We are available 24/7/365.