Stucco Siding Installation in Newton, Wellesley and Nearby Areas in Massachusetts
Enjoy the durability and versatility of stucco siding for your home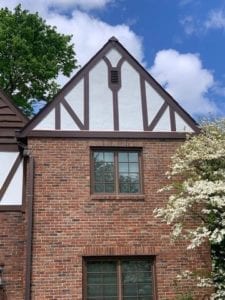 Are you looking for a quality siding material that will last for years with no maintenance? If so, stucco siding is the solution you need for your home! Stucco provides a unique set of benefits, making it an ideal siding choice. GF Sprague provides high quality stucco siding installation for homes in Greater Boston, and we will work with you to help you design the perfect solution for your home. Our experienced professionals know how to create a quality material that looks great, is durable, and provides your home with the protection it needs.
What is stucco?
Many homeowners have heard of stucco as a building material, but don't know exactly what it is. Stucco is a composite material that is made from a blend of sand, lime, and cement. This masonry product has been used for thousands of years, making it one of the most proven building materials available. Stucco is blended and applied on site, so there is no challenge of finding the right manufacturer and ordering enough material to cover your home. Our experts understand the best ways to apply this material to give your home a quality 
siding installation
.
Improve your home with quality stucco siding today
If you're interested in improving your home's exterior with stucco siding, call the local experts at GF Sprague today. We have the experience and quality craftsmanship needed to give your home a beautiful, long lasting stucco siding installation. If you want to learn more about what we offer or get started with a stucco siding installation, call us today at 
1-781-739-3787
. We offer free estimates on all our work in Brookline, Chestnut Hill, Weston, Cambridge, Quincy, Watertown, Boston and throughout the surrounding areas.
The benefits of stucco siding
Due to the unique properties of stucco, this siding material offers several benefits for your home:
Versatility: Since stucco is made specifically for each job, it can be designed in any color you want. That gives you unmatched control over the design and style of your home.
Durability: As a masonry product, stucco holds up extremely well against severe weather, fire, and hard impacts that could damage other siding materials.
Energy efficiency: Stucco creates a concrete shell around the home, meaning that it will be easier to heat and cool, saving you money on energy costs.
Low maintenance: Stucco is a very low maintenance material, meaning you will not have to spend time or money on upkeep over the course of your warranty.