Think all roofers are the same? Think again! If you are searching for roofing contractors in Boston or roofing contractors in Newton, it is essential to distinguish between the different roofers Massachusetts offers to be able to select superior service from quality craftsmen. G.F. Sprague has the best roofers in Massachusetts, with a history to prove it.
Take a close look at your options for roofing contractors in Boston… The difference between G.F. Sprague and the other guys is clear. Not all Roofing services are created equal.
The Difference between G.F. Sprague and Roofing Contractors Boston
Deciding which roofing contractors in Boston you would like to work with to repair or replace your home's roof is no easy task. You need a reliable company that you can trust to provide you with the best service and keep your home safe, offering a high-end product without breaking the bank. At G.F. Sprague, our team is proud to stand out from the roofers Massachusetts crowd, demonstrating a long history of award-winning contracting. The goal at G.F. Sprague is to offer full-service home improvement using expert craftsmanship and ample experience to fix or replace roofs, windows, chimneys, and gutters. Known especially as roofing contractors Newton and Boston locations, G.F. Sprague is eager to work on any building in Massachusetts. G.F. Sprague can also take on any task, working on buildings from residential homes to commercial and government buildings.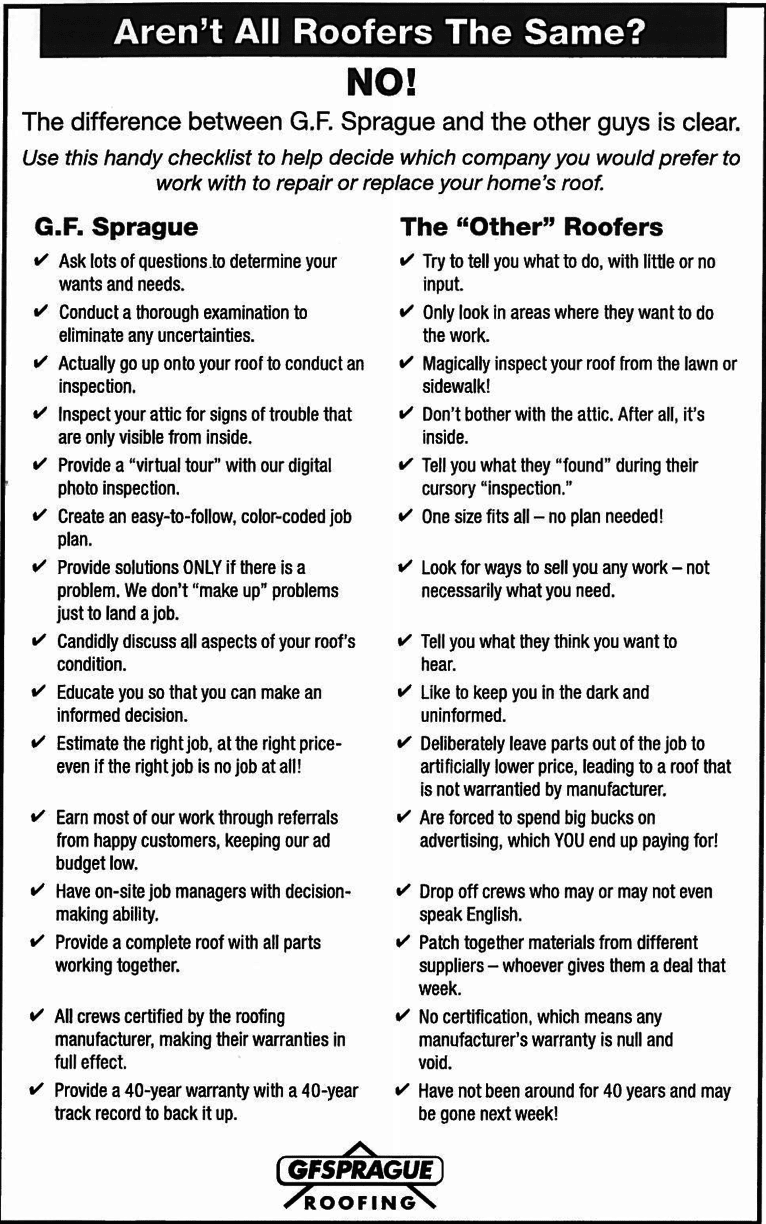 G.F. Sprague: A special kind of Roofing Contractors Newton Company
The G.F. Sprague experience differentiates itself from other roofers Massachusetts has from the first interaction with the client. At G.F. Sprague, the experts conduct a thorough examination of the building to eliminate any uncertainties, asking plenty of questions along the way to determine the client's wants and needs. As the best roofing contractors Boston has, the team actually goes up onto the roof to conduct an inspection, also checking the attic for signs only visible from the inside. Other roofers in Massachusetts simply tell you what to do with no input, inspecting only the areas they want to work on from the lawn or sidewalk. Then, during a discussion with the client, roofing contractors Newton expert G.F. Sprague will provide you with a virtual tour using digital inspection and create a color-coded job plan. The other guys tell you what they "found" and propose a one-size-fits-all proposal. Our team prides itself on only providing solutions if there is a problem, instead of making up problems to land a job like many others. Another difference is that we educate clients and candidly discuss your roof's condition, allowing you to make your own choices about how to proceed. When we provide you with an estimate, it is for the right job at the right price, even if that means no job at all. Many roofing contractors Boston competitors leave parts out to artificially lower the price or makeup problems to get a job. Our roofers Massachusetts on-site managers have decision-making ability to keep your project moving. All crews are qualified and certified by the roofing manufacturer, making roof warranties in full effect.
The G.F. Sprague Roofers Massachusetts Experience
When you get the G.F. Sprague Roofers Massachusetts experience, you get a company that stands behind its product and is willing to go above and beyond to please the client. All of G.F. Sprague's roofs come with a 40-year warranty, more than double that of the competition. Plus, we always include our 5-star service – just ask the countless referrals that have given us business! Call us today and see the difference that the most trusted roofing contractors in Boston can make for your home repair needs.