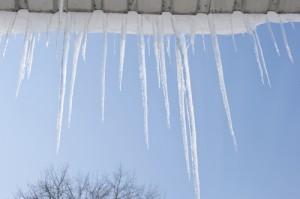 Winter has really hit Boston hard this year. It's no surprise at all to learn that many homeowners are filing insurance claims for ice and storm damage for the first time ever. The process can be confusing and frustrating, especially if you're living with wet ceilings and walls in the meantime. We've assembled some tips for claiming ice damage through your insurance company that has helped other homeowners get their ice dam insurance claims paid.
Understand Policy Coverage And Limitations
Before you submit a claim for ice dams in Boston, review your homeowner's policy for coverage exclusions and limitations. This will help you understand what is claimable and what is not. If you play by the insurer's rules, you'll get in their good graces and stand a better chance of getting your claims paid. Most policies will cover the cost of remediating and repairing damage to the structure of the home unless there is a specific policy exclusion.
Commonly covered damages include:
Interior water damage/water running down walls
Damage to insulation in walls and attics
Mold and mildew
Damage to shingles
Damage to siding
Rotten roof sheathing / fascia / soffit
Most policies will not cover:
Damage to personal property resulting from ice dams.
The full cost of ice dam removal. They may cover a portion of the cost, however.
You may have added special coverage when you took out your homeowner's insurance policy in which case, personal property damages may be covered. That's why it's important to review your policy coverage and limitations before trying to make a claim.
Making Your Insurance Claim
If you have noticed damage to the inside or outside of your home due to ice dams, the first thing you should do is take steps to protect your home from further damage. This can include snow and ice dam removal as well as moving personal belongings away from interior leaks. After that is taken care of:
Notify your insurance company or agent as soon as possible after damage is discovered.
Document the damage with pictures or videos.
Contact GF Sprague to arrange for temporary repairs to prevent further damage from occurring. Keep accurate records of the repairs as you could be reimbursed for temporary repairs.
Get a detailed inspection of the damage. We can help with this using out thermal cameras and years of experience with ice dams.
Complete the insurance claim process as directed by your agent.
Cooperate with the insurance company and their inspectors.
Assist in the insurance claims investigation.
Additional tips:
Be patient throughout the process. Insurance companies are busier than usual this year. Even though the situation seems dire, aggressive tactics won't help your case.
If you're having trouble with the claims process, talk to your insurance agent directly. He or she may have some pull and be able to help move things forward.
Be diligent about clearing snow and ice from your roof. These preventative measures look favorable to insurance companies because it proves that you have tried to minimize the risk.
Don't be afraid to ask for ice dam removal reimbursement. Even if they won't cover the entire cost of removal, they may cover a portion of it.
Get Help Repairing Ice Dams In Boston
If you have ice dams in Boston or need help negotiating ice dam insurance claims, contact GF Sprague for help. We can conduct inspections, make temporary or permanent repairs, remove snow and ice, and even negotiate with your insurance company on your behalf. Our goal is to get your property back in shape as soon as possible. Don't be surprised by a lengthy and demanding claims process. But if you persevere and do things right, you can get some insurance money to help you pay for the damages caused by ice dams. Contact GF Sprague to set up a free, no-obligation inspection of the damage. We are available 24/7/365 for those emergency situations.