High-Quality Expert Exterior Remodeling Contractors in Newton Center
In business since 1969, GF Sprague has proudly served Newton Center, MA as an established and trusted exterior remodeler and exterior repair company ready to get the job done! Our 24/7 emergency roofing services, thorough roof inspections, and knowledgeable use of all of the kinds of roofing materials mean that we have the answer to your roof's problem. And if it's time to replace your roof, we can help you decide upon the material, color, and style that will offer the best value and protection for your home.
In addition, GF Sprague also specializes in chimney repair, gutter installation, siding replacement, and replacement windows to complete your home's exterior. In conjunction with your roof, all of these features are crucial components of your home. Not only do they need to have sufficient curb appeal, but they also need to be able to keep you safe and comfortable. Our gutters will ensure that your property experiences no soil erosion or water problems around your foundation, while our efficient, stylish replacement windows will improve your home's appearance and even lower energy costs!
Newton Center, MA Roofing Services:
Gutter Installation in Newton Center, MA: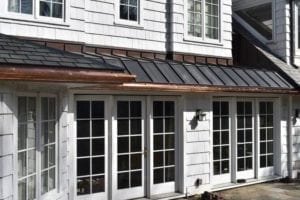 Expert Chimney Repair & Maintenace:
Emergency Repair Services in Newton Center:
Other Home Services:
Request a Free Quote
GF Sprague is committed to delivering high-quality craftsmanship to our customers in Newton Center, MA, and the surrounding area. We always offer industry-standard specifications, trained and certified craftsmen, competitively priced options, and real-deal warranties. Delivering the right job at the right price, GF Sprague brings the experience and expertise required by professionals to your home while maintaining reasonable rates. If you're ready to take the next step with your home, contact us for a free quote.